Ad Disclosure
Gigadat casino [Canada]
Bojoko helps you find Gigadat casinos. Gigadat is a very common financial solution for online casinos in Canada. This means that Canadian players are spoilt for choice when it comes to Canadian Gigadat casinos. We are here to help you understand what Gigadat is, how to use it and where to use it.
Find casinos that accept Gigadat
On Bojoko, you can easily find casinos that use the Gigadat gateway. You can use our search tool to filter out the casinos you don't want and find the right Gigadat casino that fits your needs.
Find the best Gigadat casino for you.
Read more about Gigadat
On this page, you'll find more information on Gigadat and how to use it.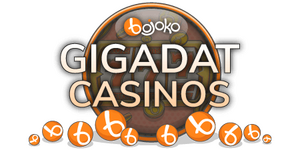 Bojoko helps you find Gigadat casinos
Even though casinos using Gigadat transfers are common, finding the right one might not be the easiest thing. With so many options, some are clearly better than others.
We have created a unique search tool that lets you find just the right casino for you. You can filter out features you don't want or filter casinos that meet your requirements. It is a powerful tool that helps you find what you are looking for.
Here on Bojoko, we do our best to help you find the right casino. We have listed hundreds of Canadian online casinos and our experts have reviewed them. They deposit real money, play with it and then test out the withdrawal process. We want to verify that the casino pays out and does it in a timely manner.
Find the best Gigadat casinos
What is Gigadat
Gigadat is a bit more than just another method to deposit or withdraw money. It is a financial ecosystem that provides online businesses an easy access to secure banking methods. Sounds fancy, but in short, it brings together multiple banking methods to one familiar package and handles the traffic.
Gigadat is closely tied to Interac, so if you have ever used that to make deposits, then you already know about Gigadat
To a player, Gigadat is a secure service that allows you to make deposits and withdrawals. It handles payins with Interac Online, Interac e-transfer and EC E-wallet, and payouts with Interac e-transfer and eCashout.
How to use Gigadat
To a player, using Gigadat is so simple that you might not even know you are using it. Online casinos don't usually show the Gigadat logo or tell you that Gigadat is handling their transfers. All you see is Interac and not how the money moves behind the curtain.
So, how does Gigadat differ from an Interac deposit? Well, in no way really. The differences are noticeable on the other side. The casino uses the Gigadat service to facilitate the Interac transfers.
Deposit through Gigadat using Interac
Making deposits via Gigadat gateway is simple and the best way to do it is using Interac. You can either use Interac Online or Interac e-transfer, which both go through Gigadat. They are processed slightly differently, so choose the one you like to use.
For Interac Online:
Choose how much you want to deposit
Select the bonus you want if asked
Pick your bank from the list
Use your online bank credentials to verify the transfer
For Interac e-transfer
Choose how much you want to deposit
Select the bonus you want if asked
Pick your bank from the list
Fill in the recipient's information and the information asked
Confirm your transfer
Gigadat casino bonuses for Canadians
Casino bonuses and Gigadat deposits go hand in hand. There are no limitations on them and all deposit bonuses are available on deposits made via Gigadat gateway.
Canadian online casinos offer a vast array of different offers and you can choose the ones that you like the most. Is it big deposit bonuses or lots of free spins, or little from column A and little from column B? No matter what your preference is, Gigadat online casino deposits work with all of them.
Check our list of casinos above that accept Gigadat deposits and see what they have to offer.
Looking for different deposit methods
Deposits using the Gigadat gateway are very popular among Canadian players, but they aren't the only option. Here are some of the other great deposit methods available for Canadians:
FAQ
Gigadat is a gateway that works with other transfer methods. It helps connect financial institutions and make safe online transactions accessible for Canadians.
As a player, you use Gigadat's services when you make deposits with Interac. Find the casinos that support Gigadat here.
Gigadat is extremely common in Canada. Nearly all casinos use it, even though they might not actively show it to the player. If you see Interac as a deposit method, then the casino uses Gigadat.
Yes. All bonuses work with Gigadat transfers.
Just first check what you need to do to activate the bonus in that particular casino. For example, do you need to put in a bonus code when depositing or is the bonus available on your account page.