How to play baccarat
Learn how to play baccarat. Baccarat is an interesting and fast-phased card game. It can be found in most Canadian online casinos.
Bojoko is here to help you with a full baccarat guide. You will learn all about baccarat and how to play it. Whether you are a beginner or advanced player, you will find many useful sections on this page. 
We begin with the basics and move on to different variations and tactics. Keep on reading and learn to play baccarat like a pro.  
Table of contents
What is baccarat?
Baccarat is a card game where players make bets on which hand is going to win the round. There are three available betting options - the player's hand, the banker's hand or the tie. The objective is to bet which hand will score closest to 9 points. Both hands are dealt two cards and the values of these cards are added together. In some cases, a third card may also be dealt. 
In baccarat, the value of each card is determined by its face value, except for 10s and face cards, which are worth zero. If the total value of a hand exceeds 9, the second digit is taken as the hand's value (for example, a hand with a total value of 15 has a value of 5).
Baccarat is a popular game in online casinos. It originates from France and has become a popular game all over the world. You might have come across this game in James Bond movies as it's his choice of a casino game. 
Baccarat is a game of chance, as the players have no control over the cards that are dealt. It is a simple and fast-paced game, making it a popular choice among both beginners and experienced gamblers.
Baccarat table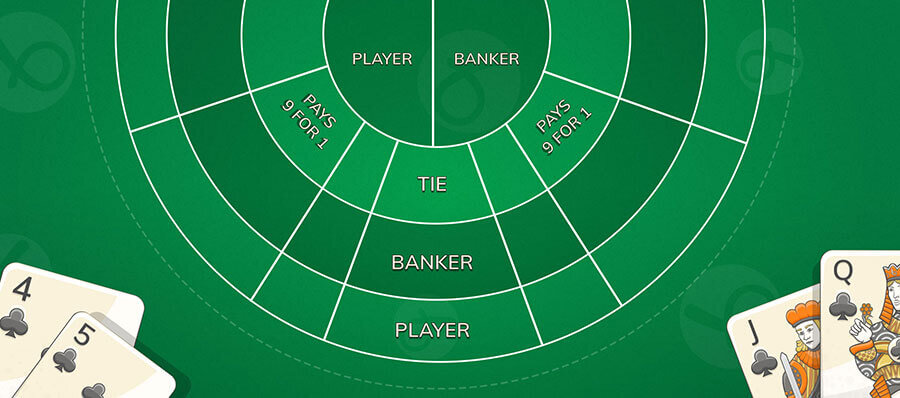 Baccarat tables have different sizes, from mini to big. The game does not change with the table, but the table sizes determine the number of players. The bigger tables usually come with higher stakes and are not accessible unless you're a high roller. 
We will look at a typical online baccarat table. Most players will recognise the baccarat table that is often referred to as mini-baccarat table. It has a semi-circle shape. It looks a bit like a blackjack table with a dealer behind and a place for seven players in front. 
The dealer runs the game, and at the beginning of each round, players place their bets. There is a box for player, banker and tie where the chips are placed. 
The dealer deals two sets of two cards - one representing the player and the other the banker. Depending on the variation played and its rules, a third can be drawn for one hand or another. 
Once the totals are determined, the dealer automatically rakes in the chips from losing players and pays out the winnings to those who guessed the outcome correctly.
The mini-baccarat table layout is nice and simple. Therefore, it suits perfectly to online casinos. However, the bigger tables are also used especially on live casino baccarat. 
Baccarat card values
Baccarat card values are important and they are explained below:
The numbered cards are worth their face value. This means 2 gives you 2 points, 3 gives you 3 points and so on. 
The 10s and the face cards (jack, queen and king) have a zero value. They don't add any points to your hand. 
The ace always counts as 1 point.
No jokers are used in baccarat.
The card values don't change but stay the same in each baccarat variation. Later on this page, we will explain the drawing of the third card and which variations have that feature.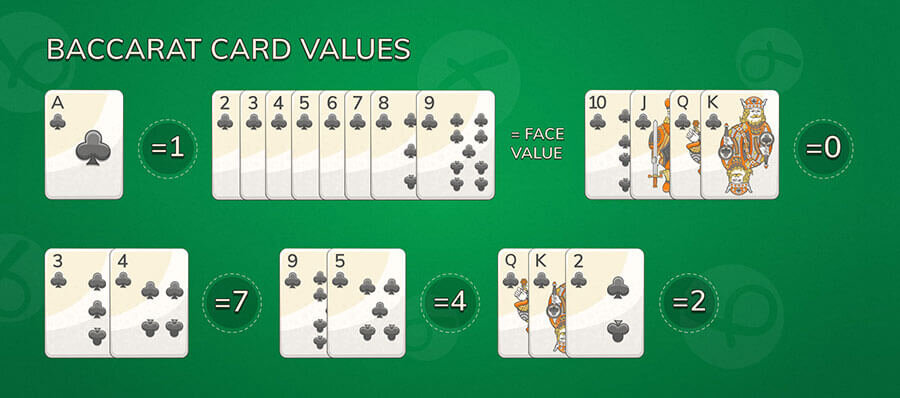 Baccarat rules
Rules of baccarat are quite simple and easy to learn. The basic rules are as follows: 
You can bet on either Player or Banker to win the round
The dealer will deal out two cards to both the Player and Banker positions
In some situations, the dealer will draw a third card to either or both hands
Card values: A = 1, 2-9 = 2-9, 10-K = 0
When calculating the total value of the hand, you only count the last digit, i.e. 15 counts as 5.
The hand closest to 9 wins the round
A winning Player bet pays 1:1, i.e. you double your money
A winning Banker bet pays 0.95:1, i.e. you double your money but the casino charges a 5% commission
If there's a tie, you get your bet back
Example round of baccarat
First, you place your bets on either the Player hand or the Banker hand. You can also bet on a Tie.
Next, the dealer draws 4 cards face open: two for the Player hand, two for the Banker.
If either the Player or Banker has a hand with a value of 8 or 9, the round ends and the higher hand wins. This is known as a "natural".
However, if neither hand had an 8 or 9, the dealer draws more cards according to preset rules. After the cards are drawn, the highest hand wins.
If you did bet on the winning hand, you win 1:1, i.e. you double your money.
Baccarat third card drawing rules
The most confusing rule in baccarat is the third card rule. In some variations, one or both hands get a third card. In other variations, two cards is enough. 
But don't worry, you don't need to know the third card rules by heart. The dealer will take care of this for you and you can trust that they know the rules. If you are not quite sure what is happening, you can always ask the dealer to explain the situation to you. 
Natural
If either the initial player hand or the banker hand gets a total score of 8 or 9, this is known as a natural. Neither hand gets a third card. The hand closest to 9 wins.
Player gets a third card
Extra card rules for the player's hand are quite straightforward and easy to remember:
If either the player or the banker has a natural (8 or 9), neither gets more cards
Player stands on 6 or 7
Player draws on any hand from 0 to 5
Banker's third card rules
With the banker's third card rule things get a bit more complicated. There are several points to take into account - does the player get a third card, what's the value of the banker's hand and the value of the player's third card. Here's how it works:
If the player stands, the banker gets another card if their hand is between 0 and 5
If the player draws a third card, the banker may get a third card too
This depends on the banker hand and the value of the player's third card, not the total value of the player's hand.

Payouts
In the standard Punto Banco version of baccarat, there are three possible bets, outcomes and payouts:
We look at the mechanics of each baccarat bet below.

Player bet
Player bet is the most straightforward bet in baccarat.
Win. If the Player hand beats the Banker hand, you get back 2 chips for every chip you bet.
Lose. If the Banker beats the Player, you lose your bet.
Tie. If both hands end up with the same value, you get your stake back.
The house edge of c.a. 1.24% for the Player bet is fairly slim. It equals an RTP (return to player) of 98.76%, roughly the same as French roulette.
Banker bet
Banker bet is pretty much the same as the Player bet. However, the Banker hand has a slight advantage compared to the Player. That's why a 5% commission is deducted from all the winning Banker bets. So instead of paying 1:1, the Banker win pays 0.95:1.
Win. If the Banker hand beats the Player hand, you get back 2 chips for every chip you bet, minus a 5% commission.
Lose. If the Player beats the Banker, you lose your bet.
Tie. If both hands end up with the same value, you get your stake back.
Despite the commission, the Banker hand is still your best bet in baccarat. With a house edge of only 1.06%, it offers a generous RTP of 98.94%. The only games with comparable odds are blackjack and video poker - both requiring some skill.
Tie bet
Since a Tie results in returning the stakes for both Player and Banker bets, the Tie bet is not technically part of the main game. However, this side bet is available at most baccarat tables. That's why it's important to explain how it works and why you should avoid playing it.
Win. If both hands end up with the same value, your Tie bet pays 8:1.
Lose. If either the Player or the Banker wins, you lose your Tie bet.
This doesn't sound so bad unless you know the odds. On average, the Player and Banker bets return almost 99p for every pound bet. Not so for the Tie bet. The house edge is a massive 14.36%, resulting in a return rate of 85.64%.
Obviously, the high payout of 8:1 is tempting, but that's just the point: to lure suckers in. An experienced player avoids the Tie bet like a plague and sticks to the Banker bet which offers the best odds.
Playing baccarat online
Baccarat has become increasingly popular over the last year, especially in online casinos. Playing baccarat online is nowadays very exciting and offers much more special features than land-based casinos ever could. 
One of the biggest advantages is, of course, the convenience online baccarat can offer. You can enjoy the game from the comfort of your own space, not worrying about dress codes and travelling to a physical casino. In this way, playing baccarat is much more relaxed and controlled. 
Another benefit is the numerous different baccarat games you will have access to online. You can choose among different variations, which have their own unique rules and betting options. Having variety adds excitement to the game and keeps every round fresh. 
In addition, you get the chance to enjoy great bonuses and promotions that can be used for baccarat. Many online casinos offer attractive bonuses to new and existing players, such as welcome bonuses, deposit bonuses, and loyalty rewards. These bonuses can provide players with extra funds to play with and increase their chances of winning.
On our baccarat casino page, you can find the best online casinos to play baccarat. Our team has picked some of the top casinos and by adding filters, you can narrow the search to your own preferences. 
Ad Disclosure
Jupi Casino review »

| | |
| --- | --- |
| Number of table games | 810 |
| Live casino | Yes |
| Minimum deposit | C$25 |
| Launch date | 06/2021 |
| Bonus code | - |

Jupi Casino is home to many leading providers and holds a massive game library. Here you will find both casino and sports betting conveniently under one roof. Jupi gets its name... Jupi Casino review »

Play here »

Only new registered players. Minimum deposit: C$40. Wagering requirement: 40x (bonus + deposit) Bonus applies only on slots. Minimum bet C$0.05. Maximum bet C$5. Bonus duration: 30 days. Game weighting apply. Full and Bonus apply. Play responsibly.

LuckyWins Casino has a modern, functional feel to it. The site is well organized and uncluttered, with good selections and menus – all the important stuff is easy to find. But t... LuckyWins casino review »

Play here »

New players only, 18+. Minimum deposit: C$20. Wagering requirement: 40x bonus. Max stake for wagering: C$5. Wagering must be met within 7 days. Full and Bonus apply. Play responsibly.
Live baccarat online
Live online baccarat offers a realistic and immersive gaming experience since it is broadcast in real time from a casino studio.
It's a great way to get a real touch of the game with real dealers and other players. You can access quality live baccarat with only a stable internet connection. The good thing about live casinos is that they usually offer a wide range of baccarat tables. You can set your own betting limits and choose the game variation that suits your budget and your needs. 
Live baccarat also has a social aspect to the game. A live baccarat game involves real dealers and players, unlike online baccarat games, where players compete against a computer program. This creates a more interactive and engaging atmosphere, as players can interact with the dealer and fellow players through a live chat feature. By adding these elements to the game, it enhances its authenticity and makes it feel like a real baccarat table.
The fact that the games are conducted in real-time, with the dealer shuffling and dealing the cards, provides transparency. In this way, there can be no doubts about the fairness of the game, as players can watch every action unfold in front of them. Additionally, live baccarat games often come with a variety of camera angles, allowing players to view the game from different perspectives.
Ad Disclosure
Tusk Casino review »

| | |
| --- | --- |
| Number of live games | 1010 |
| Live casino | Yes |
| Minimum deposit for bonus | C$10 |
| Cashback bonus | No |
| 1st deposit bonus | 100%/C$500 + 100%/100 bonus spins |

Tusk Casino was founded in May 2020 and it offers both casino and sports betting. The company behind the casino is Alt.Bet Exchange B.V. They are headquartered in Curaçao an... Tusk Casino review »

Play here »

New players only, 18+. Minimum deposit: C$10. Wagering requirement: 40x bonus. Only slots wager 100%. Maximum bonus is C$1,500 and 300 free spins. Bonus cashable value: 20 times the bonus value. Bonuses are valid for 30 days. Full and Bonus apply. Play responsibly.

BetAndYou casino review »

| | |
| --- | --- |
| Number of live games | 800 |
| Live casino | Yes |
| Minimum deposit for bonus | C$14 |
| Cashback bonus | No |
| 1st deposit bonus | 100%/C$432 + 30 bonus spins |

Launched in 2010, BetAndYou is one of the largest online casino sites available for Canadian players. Operated by Pelican Entertainment, this casino is a true powerhouse with no... BetAndYou casino review »

Play here »

New players only, 18+. Minimum deposit: C$14. Wagering requirement: 35x. (Bonus). Maximum win with bonus: 1x bonus amount. Free spin winnings wagering requirement: 35x. Wagering must be completed in 7 days. Max wager: C$5. Game weightings apply. Full and Bonus apply. Play responsibly.
How to play baccarat and win - the best tips
There is no secret key to win and be successful in baccarat. Althoigh there are a few tips that might improve your chances, it's good to remember that it is a game of guessing. Unlike blackjack and poker, where you can use different tactics to win, baccarat doesn't have those. 
We can provide you with some tips, but these do not provide you with the road to winning. Take them more as friendly advice on how you can enjoy the game more and avoid sliding into a losing streak. 
Avoid tie bets - Statistically, it is very unlikely for you to win if you go after tie bets. Although they have the best payout rate, they are also extremely risky. 
Banker is the best bet - Banker is a safe choice, and there is pure maths behind this statement. The banker will win slightly over 50% of the time. With an RTP of 98.94%, the banker's hand is the best-paying hand in baccarat. 
Manage your budget - Money management is critical when playing baccarat. In the end, betting on any hand in the game is like betting on a flipping coin. Set your limits so that you can enjoy the game without breaking the bank. 
Don't do all-in bets - You might get attempted to do this, especially if you have been losing too much and you are looking for a fast way out. But don't go for this, or you might end up leaving the table with an empty wallet and a sad face. 
Learn baccarat strategy
Opinion differ about whether baccarat can truly have a winning strategy or not. Many experts have been studying baccarat and ways to make bets for a long time. They have managed to develop some advanced betting systems that can be implemented into your baccarat strategy.
Some of these strategies are very similar to what we see used in other table games. Some strategies are based on placing bets in a certain way, some use mathematical systems and the most advanced ones take years to master. 
We dig deeper into the different strategies on our baccarat strategy page. There you can explore different systems, some even centuries old. 
Play free baccarat
The best way to practice and learn more about baccarat risk-free is to play free baccarat. Many online casinos have RTP table games which you can play for free. This means you don't use real money to place bets, but you can't win real money either. 
Free baccarat is especially useful for beginners who want to learn how to play the game. For those, who want to learn a new variation, free baccarat offers a safe way to practise the game. It gives you a chance to see how different versions work and helps you to make a decision on whether you wish to continue playing the game with real money. You can find good free online baccarat sites with the help from Bojoko. 
Use baccarat casino bonuses
Baccarat casino bonuses can help to boost your bankroll with some extra bonus money. Baccarat bonuses are perfect for playing baccarat without risking your own budget. 
You can find different types of baccarat bonuses on our casino bonus page. It can be a deposit bonus, free chips, cashback or other type of rewards from the casino. When you find a good bonus that can be used for baccarat, there is no reason not to use it. Just remember to check the bonus terms carefully so that you will know for sure it is suitable for the game you want to play. 
Different versions of Baccarat
There are several baccarat variations online. They all have the same objective - bets placed on which hand is closest to nine - but their unique rules and side bets set them apart. Here are some of the most common types of live baccarat you will encounter.
Punto banco: This is the most common version of baccarat. It can be found in most online casinos, and it follows the basic rules of baccarat. The goal is simply to guess which hand gets closest to nine points. 
Baccarat banque: This variation is mainly common among European players. It uses three decks and allows players to act as the bankers. The player that acts as the banker doesn't necessarily play against other gamblers. Instead, they can only wager on the banker side to win.
Chemin de fer: Chemin de Fer is another popular baccarat version. Like the baccarat banque, this version allows you to act as the banker. Here, the player who accepts the banker role plays against other gamblers at the table.
3-card baccarat: This game is usually played with a single 52-card deck. All scoring rules are similar to the standard baccarat, e.g., cards are worth their numerical value, and face cards are worth 0. However, in this variation, a hand with three face cards gives the highest payout only, followed by a score of 9, which is usually the best hand in traditional variations. If a game ends in a tie, the player with the highest number of face cards wins.
Mini baccarat: Mini baccarat has similar rules and objectives to regular baccarat. However, as the name implies, mini baccarat is a smaller version of the game. Its small table could only sit up to seven gamblers in land-based casinos. Mini baccarat at online casinos usually comes with the lowest betting limits. The game is highly popular for its simplicity.
FAQ
Baccarat is a comparing card game where the goal is to bet which hand get closest to nice points. It is quite an easy game to learn and doesn't have complicated rules. 
The basics of baccarat are as follows: 
Players place their bets on which hand they guess will get nearest to 9.
Each hand starts with 2 cards, and a third may optionally be dealt.
The values are summed, and the nearest to 9 wins.
The banker pays the winnings according to players' bets. 
There are three main variations of baccarat: punto banco, chemin de fer and baccarat banque. They all have the same basic rules, but they come with unique twists. Online baccarat allows even more features to different baccarat variations and you can find several different games from many top providers. 
Baccarat is not like blackjack. These are two very different kinds of table games. Blackjack requires decision-making and at least some knowledge of basic strategy. Baccarat is more like a guessing game, where your only decision is how much you want to bet on which hand. 
Our blackjack rules page will tell you everything you need to know about playing blackjack. 
To place a bet in baccarat, you need to choose whether to place your chips on player, banker or tie box. Placing bets in online baccarat is very easy and the simple layout of the table makes it even easier. 
The rule 3 in baccarat means that in some versions of the game, the player or banker will draw a third card. The rule varies according to the baccarat version, so always make sure you know the rule 3 in the version you are playing. 
Baccarat is purely luck because there is no skill involved in this game. Although some players will argue that you can use different tactics to win the game, it's all about guessing the right winning hand.