How To Play Blackjack
Learn to play blackjack. Bojoko offers a comprehensive blackjack guide to help you.
Whether you're new or experienced, we've got your back. We teach you how to play blackjack and and provide you a thorough understanding of the game.
Explore the nuances of online blackjack, from the blackjack rules to more advanced strategies. We're here to equip you with the information for a rewarding gaming journey.
Table of contents
What is blackjack?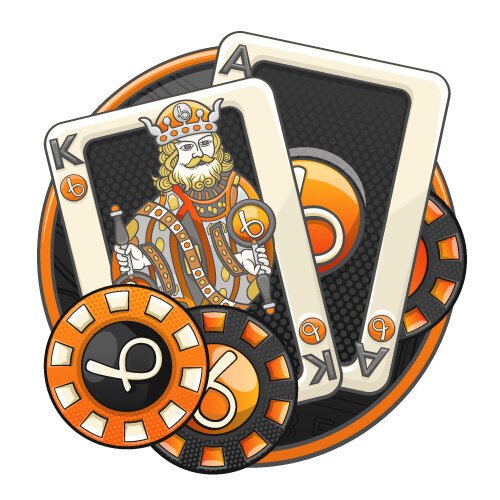 Blackjack is one of the most renowned and classic card games. You compete against the dealer with a single goal. To form a hand that beats the dealer without going over 21 points. Blackjack is a beginner-friendly straightforward game.
The main point of blackjack is to get closer to 21 than the dealer without going over. If you exceed 21, you lose. This rule is for everyone involved, including the blackjack dealer.
Success in blackjack goes beyond luck – you must use the right strategies at the right time. You need to decide when to get another card or keep the ones you have.
Simply put, blackjack is a game that includes skill, strategy, and luck. The more you play and learn, the better you get at understanding how these factors affect the game.
How to play blackjack - beginners guide
To play blackjack you need to know how the game works. This is how to play blackjack at a casino.
You choose and place your bet
You're dealt two cards face-up
The dealer receives two cards, one face-up and one face-down
You decide whether to take more cards or stand
The blackjack dealer makes their move
If your cards are closer to 21 than the dealer's, you win!
To win, you need to make smart choices. Opt for "hit" to receive another card and "stand" to maintain your current total.
The main objective in blackjack is to beat the dealer's hand. You need to go highe than the blackjack dealer, but without exceeding 21. 
If you have a low total (like 12), it's usually good to get another card. If your hand is strong (like 18), it's better to stand. You win if your cards are higher than the dealer's, but going over 21 means busting.
Learning how to play online blackjack is simple once you get started. Begin with the blackjack basics, and soon you'll play like a professional.
Blackjack table
The blackjack table looks like a half-circle and has up to 12 playing spots. Most tables have seven spots, but some only have five. The dealer stands behind the table, facing the players.
Here's what you need to know about the blackjack table:
Betting area - You have a spot in front of you to put your bets, facing the blackjack dealer.
Chips - You choose how much to bet.
Card display - As the round begins, your cards will be shown on top of your betting area. The dealer's up card is displayed opposite you.
Action buttons - When you get your cards, you'll see buttons like "Hit," "Stand," "Double Down," and "Split" for what you want to do.
Game information - You can see the rules and details about the type of blackjack you're playing.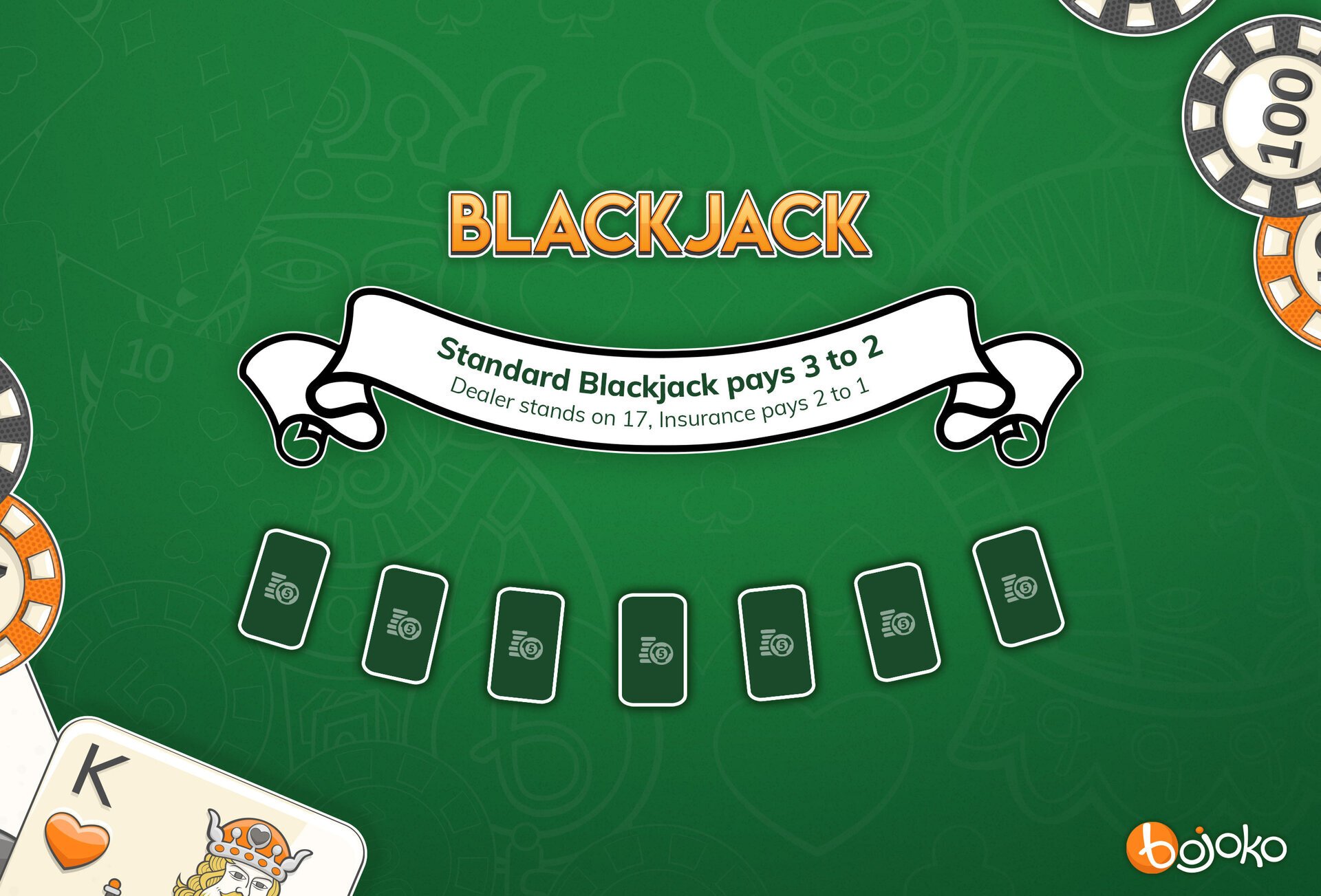 Blackjack card values
Learning the blackjack card values is crucial if you want to play the game. Once you get your first two cards, you need to think about how good your hand is and decide what is the best move to make.
Number cards (2 to 10): They're worth the number they show.
Face cards (jack, queen, king): Each is always worth 10 points.
Ace: A special card in blackjack. It can be 1 or 11 points, whichever is better for your hand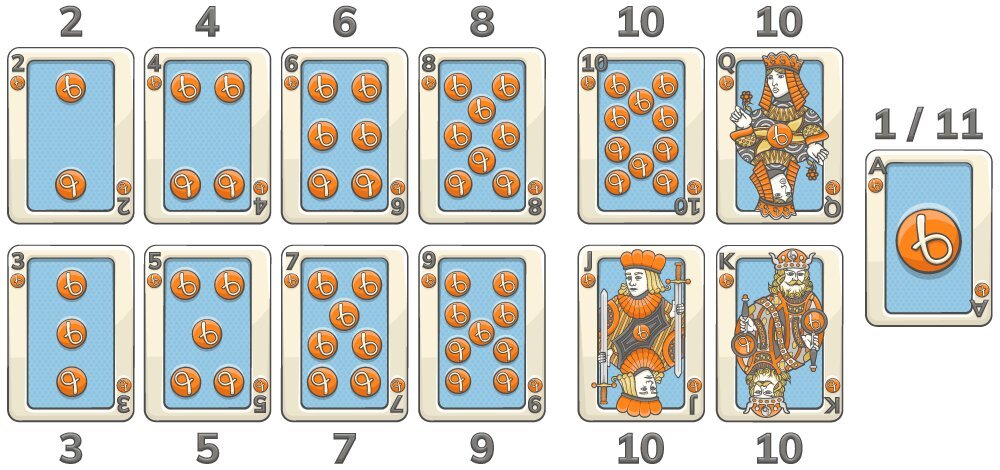 When you're thinking about what to do with your blackjack cards, remember that other players' cards matter too. For example, if you have a tough hand of 16 and the person next to you gets a face card, you might change your decision. If you want to get really good at the game, see our card counting blackjack page.
HOW TO WORK OUT THE total of a blackjack hand
To play blackjack at a casino, you must first know how to figure out your hand's value. The blackjack card rules are simple.
You start by adding up the card values. For example, if you get a 7 and an 8, your hand is 15. If you ask for another card (hit) and get a 3, your total goes to 18. If your total goes over 21, you lose. The same applies to the dealer.
The ace is a special card in blackjack. It can be 1 or 11, whichever helps your hand. If you start with a 10 and an ace, you have blackjack – a perfect 21.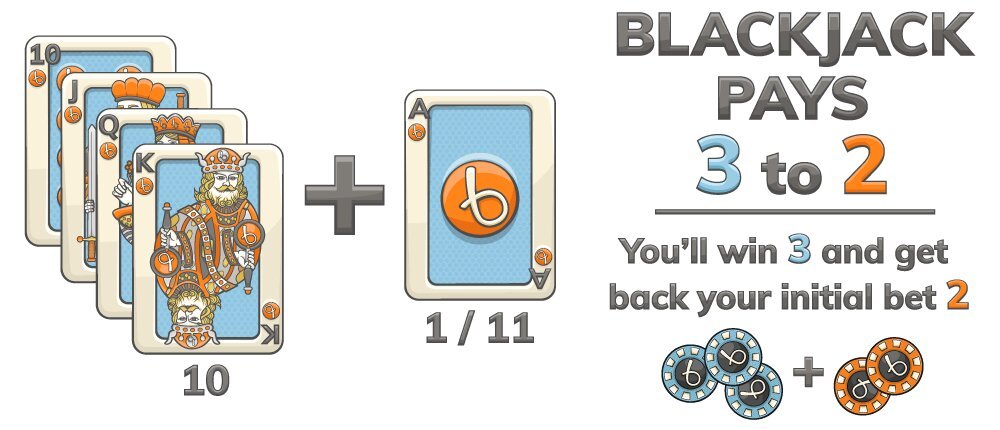 Blackjack rules
The rules of blackjack are easy to understand. Anyone can quickly learn how to play blackjack. This is a key factor in the game's popularity.
Basic blackjack rules
The basic rules of blackjack help you grasp the main elements of the game. This starts with the choices you have after receiving your cards.
You can do one of these moves depending on your hand.
Hit - Request a card to strengthen your hand.
Stand - Maintain your current hand with no additional cards.
Double Down - Double your original bet and receive one more card.
Split - If you have two cards of the same value, you can divide them into two hands.
You should also pay attention to the blackjack dealer. The dealer plays by blackjack rules that differ depending on the variant you're playing.
Here are the main casino blackjack rules for dealer's:
The dealer is also dealt two cards, one face-up and one face-down.
The dealer plays by strict blackjack rules. They must hit until their hand reaches at least 17 points and then stand.
If the dealer gets a blackjack with their first two cards, you lose unless you have a blackjack as well.
Blackjack payouts
Blackjack payouts typically range from 1:1 for regular wins to 3:2 for blackjack wins. You are paid 1:1 if you win without getting a blackjack 21. However, you are paid 3:2 for a blackjack win if your hand totals exactly 21. 
Keep in mind the following blackjack rules for payouts:
You double your bet if you beat the dealer but do not hit exactly 21 to win. For instance, if you bet C$10, winning means you will get C$10 extra in your pocket.
If the total of your cards is 21, you have a blackjack. Your C$10 wager results in a C$15 win.
If the dealer busts, you receive a regular win.
If your hand matches the dealer's hand in blackjack, you get your bet back.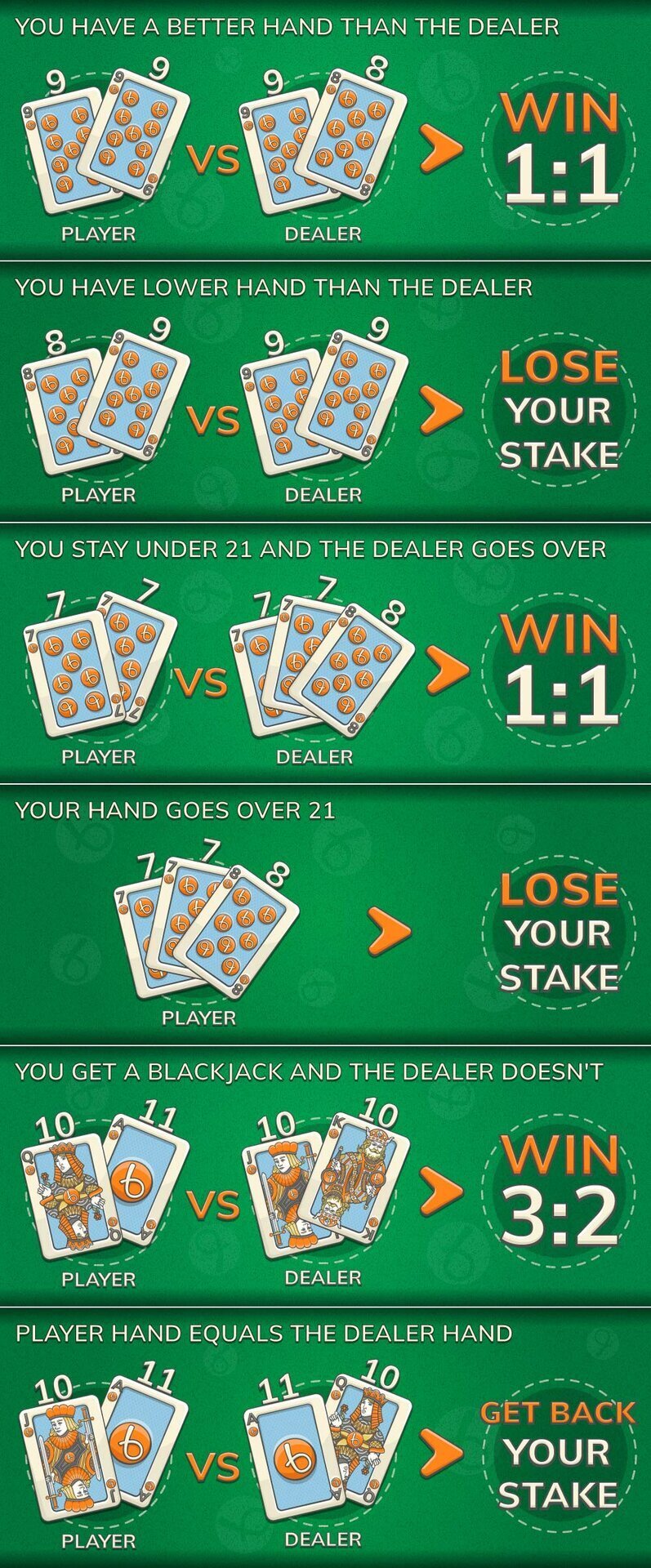 advanced blackjack rules
There are advanced blackjack rules that seasoned players can use. Remember that these strategies are not necessary to win.
Surrender - In some blackjack games, you can give up and receive half your bet back. This option is uncommon in online blackjack.
Insurance - Only available if the dealer's visible card is an ace. It protects you from dealer blackjack by costing you half your bet. It is often best to avoid this risky option because it does not favour the player.
Even money -  A side bet that is also available for blackjack hands when the dealer has an ace. It pays out right away, preventing a potential tie, but because of its odds, it is frequently not the best option.
How to play blackjack online
To play online blackjack, you'll need to follow a few easy steps. Fortunately, playing blackjack online is more straightforward than it is at physical casinos. You can play at live-streamed online blackjack tables from studios or at virtual RNG tables.
Here's how to play real blackjack online:
Find a reputable casino with a solid blackjack selection. You can browse our best blackjack casino page for the top-rated sites.
Sign up and deposit.
Go to the blackjack card games section.
Choose a blackjack type you like.
Now you're ready to play!
Modern blackjack tables provide an authentic gambling experience. They mix innovative technology and classic features for a dynamic blackjack experience.
You can't learn how to win in online blackjack on your first try. The key to winning at online blackjack is regular practise and solid understanding of the game's fundamentals.
Here are some online casinos with great blackjack choices.
Ad Disclosure
Tusk Casino review »

| | |
| --- | --- |
| Number of live games | 1010 |
| Minimum deposit | - |
| 1st deposit bonus | 100%/C$500 + 100%/100 bonus spins |
| Launch date | 05/2020 |
| Bonus code | - |

Tusk Casino was founded in May 2020 and it offers both casino and sports betting. The company behind the casino is Alt.Bet Exchange B.V. They are headquartered in Curaçao an... Tusk Casino review »

Play here »

New players only, 18+. Minimum deposit: C$10. Wagering requirement: 40x bonus. Only slots wager 100%. Maximum bonus is C$1,500 and 300 free spins. Bonus cashable value: 20 times the bonus value. Bonuses are valid for 30 days. Full and Bonus apply. Play responsibly.

BetAndYou casino review »

| | |
| --- | --- |
| Number of live games | 800 |
| Minimum deposit | C$10 |
| 1st deposit bonus | 100%/C$432 + 30 bonus spins |
| Launch date | 06/2010 |
| Bonus code | - |

Launched in 2010, BetAndYou is one of the largest online casino sites available for Canadian players. Operated by Pelican Entertainment, this casino is a true powerhouse with no... BetAndYou casino review »

Play here »

New players only, 18+. Minimum deposit: C$14. Wagering requirement: 35x. (Bonus). Maximum win with bonus: 1x bonus amount. Free spin winnings wagering requirement: 35x. Wagering must be completed in 7 days. Max wager: C$5. Game weightings apply. Full and Bonus apply. Play responsibly.
Online blackjack tips - how to improve your chances
Use these online blackjack tips to improve your chances. Going into a situation with a well-planned strategy will always be more effective than going in blind.
You can hone your strategy and improve your chances of winning by incorporating these online blackjack tips into your gameplay. Remember that winning at blackjack depends entirely on your ability to play strategically and make wise decisions.
Bankroll management
Successful blackjack strategy is based on good bankroll management. Set aside a certain amount of your overall gambling budget for your blackjack budget.
The maximum amount that experts advise using for any given session is 5% of your bankroll. A general rule of thumb for individual bets is to stake about 2% of your in-game money per round. By using a strategic approach, you can extend your gameplay, protect your money, and reduce the possibility of suffering significant losses.
Card counting
Card counting is a method of tracking a deck's dynamics. As a player, you should be aware of when there are more high cards in the deck and when there are more low cards.
Assign each card a value, and keep track of the totals as they are played. You can adjust your bets in response to changing odds by keeping track of the count.
To put it simply, you give cards values of +1, 0 and -1 in the following ways:
Cards from 2 to 6 = +1
Cards from 7 to 9 = 0
Cards from 10 to Ace= -1
You must mentally keep track of the blackjack cards played and their combined value while card counting in order to use the above-described scoring system. This number indicates when the cards are stacked in your favour.
Blackjack basic strategy
The basic strategy is a solid indicator of when you should hit, stand, split, and double down. Basically, basic strategy demonstrates how to play all hands in all circumstances using a combination of blackjack odds and statistics.
You can learn more about the blackjack strategy to make optimal decisions based on your hand and the dealer's up card. This method helps you make better decisions and limits losses.
Choose your table
A 3:2 payout ratio for blackjack hands is what you should look for when choosing a blackjack table. Compared to the 6:5 alternative, a 3:2 payout generates higher returns. Your winnings will be significantly impacted by this decision because 3:2 tables have a higher overall return rate.
For example, if you bet C$10 and play at a 3:2 table, you will win C$15 (i.e. 1.5X your stake). This, plus your stake, equals a total return of C$25. Bet C$10 at a 6:5 table, and you will make C$12 (i.e. 1.2X your stake).
Prefer fewer decks
Choose games with fewer decks to improve your chances. Games with fewer decks typically have a lower house edge, which benefits the player. While more decks appear to offer more chances of hitting blackjack, the decreased probability outweighs the advantage.
Blackjack bonuses
Most online casinos provide bonuses to improve your experience, and some of them are specifically designed for blackjack. Utilise these promotions to play more hands and increase your profits.
Look for bonuses that:
Can be used on live dealer games
Have high wagering contribution on blackjack
Have low wagering requirements
Have enough time to complete the wagering
View our list of the blackjack bonuses if you want to find casinos offering these types of bonuses.
Practise playing blackjack
Practise and repetition will help you improve your blackjack skills. You will develop better decision-making skills and effective bet management as you play more. 
Try our free blackjack simulator if you are looking for a dependable training tool. This tool includes a full practise mode with play money, basic strategy drills and a chart, card counting drills, and a thorough tutorial on blackjack rules. It is an excellent tool to help you develop your skills in a risk-free setting.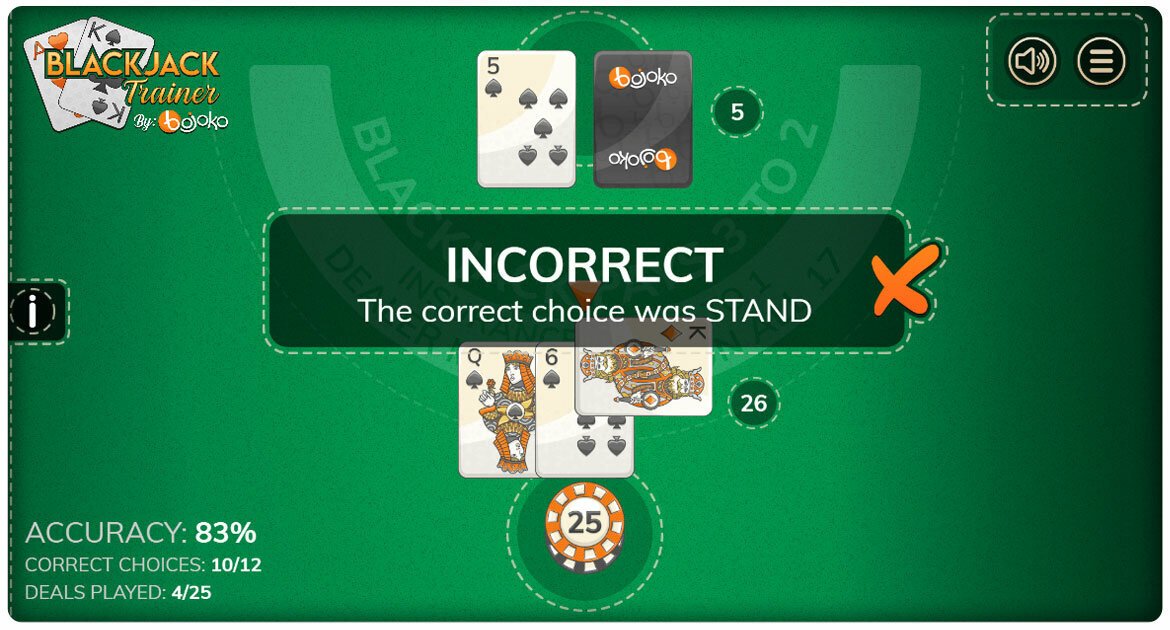 FAQ
Blackjack is a popular card game, where you compete against the dealer and aim to get a hand as close to 21 as possible without exceeding it.
The basic rules of playing blackjack are to either hit (get more cards) or stand (keep your current hand). The goal is to have a hand value higher than the dealer's without going over 21.
Yes, blackjack is often referred to as 21.
To play 21 blackjack online, you need to find a reputable online casino that offers blackjack games. Create an account, deposit funds, and navigate to the blackjack section to select a blackjack table.